It's never too early for marketing, and a strategic marketing plan can help jumpstart your efforts.
The benefits of marketing don't always show themselves immediately, which is why some early-stage companies push it off to the side. But the long-term benefits are significant, so the sooner you start marketing, the sooner it will pay off.
"Startups have limited resources, and founders have limited time," says Christina Logsdon, head of marketing at equity management startup Shoobx. "But even if you spend just 10 minutes a day putting your message and unique point of view out there, it'll start to make a difference."
If you want to make the most of your efforts, you need to have a strategic marketing plan. Forty percent of marketers don't formally document their strategy, but those who do are five times more likely to have success, according to CoSchedule.
In this article you'll learn how to create a marketing plan by exploring these topics and more:
You can also get a free strategic marketing plan template to help keep you on track.
What Is a Marketing Plan?
A marketing plan is a living document that describes what a business will do to build its brand, promote its products and services and ultimately generate sales. Among other things, it details the company's messaging, target markets and personas and marketing channels.
Effective messaging differentiates your company from its competitors and communicates your offering's unique value proposition. When you create a marketing plan, you're ensuring consistent, on-brand messaging that aligns with the overall goals of the business.
How to Create a Marketing Plan
To create a marketing plan, include these components:
messaging hierarchy
thought leadership
content development
content distribution
Your first startup marketing plan should focus on messaging — what you want to say, who you want to say it to and how you want to say it. With drumbeat marketing, you develop a unique point of view and share it through multiple owned and earned channels — blogs, social media, press releases, etc. — until it becomes associated with your brand in your market.
All of these components and more are laid out in our strategic marketing plan template.
1. Messaging Hierarchy
Your messaging hierarchy defines exactly what your company wants to say and lays out how you plan to say it in a clear manner that is scalable and differentiated. Your hierarchy should include your:
vision and mission
key differentiators
market segments and industry verticals
value proposition and use cases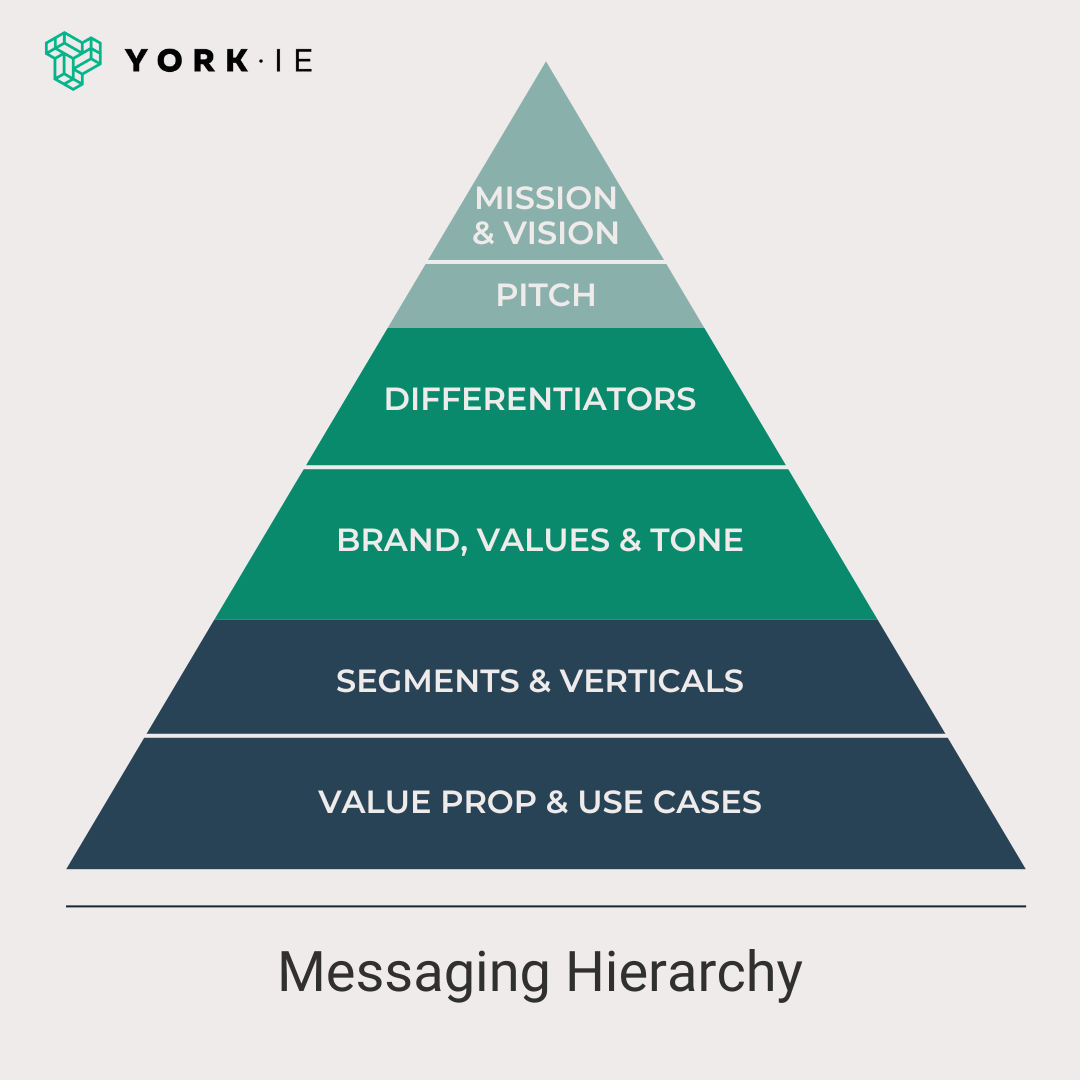 2. Thought Leadership
Thought leadership is where the differentiated part of your messaging hierarchy comes into play. Using what you've developed so far, come up with two or three unique, compelling and provocative points of view (POVs) for your company to own.
At York IE, for example, two of our core POVs are:
The traditional venture capital model is broken.
and
The institutions built to help startups are failing them.
Thought leadership isn't about getting your executives' bylines in trade publications or having them invited on podcasts. It's about having a unique point of view that:
opens your audience's eyes to a better way of doing something; and
implicitly positions your company or product as the best way to help them do it.
3. Content Development
Once you know what to say, it's time to start saying it — over and over again, until your POVs start to be associated with your company in your market.
How can you come up with different ways to say the same thing? Here are some ideas:
Audit your existing content: Do you have existing blog posts that you could update with your new perspectives and republish?
SEO research: Create content that your audience is searching for and inject your POV into it.
Filter your POV through different lenses: Each of your personas has different needs and perspectives. The same with prospects and customers in different verticals. Create tailored content that reinforces your POV in the most effective way for each audience segment.
Develop a consistent but realistic content plan. Publishing one blog post a month is better than publishing three your first week, when there's a lot of enthusiasm, and then not doing anything for months because you're burnt out or you've moved on to other priorities.
4. Content Distribution
Once you've nailed your messaging and point of view and started creating content to reinforce it, you need to make sure people hear it. A disciplined, focused content distribution strategy can help you do effective, consistent marketing — even with limited resources.
How?
Consider the 80/20 rule: Spend 20% of your time creating content and the other 80% of your time distributing it.
For example, you can turn an ebook into multiple blog posts. Then you can turn each of those blogs into multiple LinkedIn posts. And each of those LinkedIn posts can become Twitter threads.
Or you can cut your one-hour webinars or 30-minute podcasts into several YouTube videos, with each spawning a few short clips for social media.
It's easy to hit Publish and move on to the next project. Build content distribution into your strategic marketing plan so it doesn't become an afterthought.
Strategic Marketing Plan Template
The best time to start marketing is now.
Dive in with our free template.
Why You Need a Strategic Marketing Plan
You need a strategic marketing plan to help with:
message testing and audience validation
audience building
demand generation
lead generation and sales alignment
The drumbeat marketing approach, which emphasizes strong messaging and consistency, can help you achieve these benefits more quickly.
Message Testing and Audience Validation
Engaging the audience provides founders with a good testing ground and feedback loop.
You can easily get feedback from your audience and amplify their positive responses. Test out your message, see if and how it resonates, and then double down on what works.
Having quotes from partners, community members and clients is also a great way to build confidence in your business. These testimonials may come from comments on your social media posts, responses to surveys, interview responses and other sources.
Audience Building
There's a huge potential community for your company out there, from your friends and family to former and current coworkers, clients, prospects, analysts and investors. And we live in an interconnected world that's surprisingly small. Regularly communicating and interacting with these individuals will help you build community engagement.
Demand Generation
Whether it's sourcing where your ideal customers hang out, or upselling your products to them, demand generation drives interest and awareness in your company.
A strategic marketing plan can help you focus and scale these efforts, from developing your personas to creating content for them and building conversion paths to generate leads. Which brings us to…
Lead Generation and Sales Alignment
You can't ignore sales. After all, selling your product is the ultimate goal.
"Everyone talks about the importance of sales and marketing alignment, but few actually achieve it," says Amanda Bohne, a chief marketing officer in the software industry. "Especially at a startup, even if you have alignment one quarter, maintaining that alignment can be easier said than done when everything is moving at warp speed."
A marketing plan can help create alignment with sales and ensure you're delivering qualified leads through an effective and scalable process.
How to Execute on Your Marketing Plan
Once you've created a marketing plan, establish a monthly cadence of activities to bring it to life.
Content Development
Create a content calendar. Plan out what you're going to produce, who's going to produce it and how you're going to distribute it. Your calendar should include all the content you plan to create, from thought leadership and search-friendly blog posts to social media posts, news announcements and more.
From here, you can rely on other internal teams, as well as external third parties, to validate your messaging.
Sales Enablement and Demand Generation
One of the first things on your calendar should be cornerstone content — an ebook, white paper or other longform piece focused on the number-one thing your company wants to be known for. Not only can you use this for demand generation and lead generation, but it also makes for strong sales collateral.
Public Relations
Press releases are another type of content you can use to deliver and reinforce your POVs to your audience. What news do you have coming up that would lend itself to an announcement?
Press releases don't have to be reserved for major news; you can write them for product and feature launches, new hires, new funding, customer and partner wins and even company growth and momentum.
You can also pitch the media, not only on your announcements but also on your thought leadership. Find outlets that will publish your content or interview your executives for news and trend stories.
Analyst and Influencer Relations
Similarly, you can conduct outreach to third-party firms and start building the relationships that may lead to your company getting exposed to their audiences. Identify relevant analyst and influencer targets and lean on your marketing plan to pitch them on why they and their clients need to know about you.
What Is a Strategic Marketing Plan Template?
A strategic marketing plan template is a tool you can use to develop strategies and tactics that will help you achieve your business goals in accordance with established best practices. It helps you focus on your core objectives as you create your marketing plan.
If you don't want to create a marketing plan from scratch, don't let that stop you from building your brand. Click here to download the strategic marketing plan template from our Fuel platform and start consistently getting your message out there.