A product backlog template can help you plan for and organize the future of your company's product.
Establishing and maintaining a backlog, and the supporting processes around it, is one of the most important things you can do to align your company's resources to your company's vision.
In this post you'll learn how to create a product backlog and why it's so important. You'll also be able to download a product backlog template to help you get started.
What Is a Product Backlog Template?
A product backlog template is a blank but functional form that enables product development teams to quickly begin logging and prioritizing feature requests, bug fixes and other tasks. Product backlog templates allow teams to focus on the work that matters without building their own backlogs from scratch.
Using an established product backlog template will make sure you have the right framework to get started. If you decide to use a SaaS tool specifically for backlogs or agile processes, you'll know that you have the right foundation to build on.
If you don't have any of these tools, download our product backlog template from Notion. Simply click here and then select Duplicate at the top of the screen.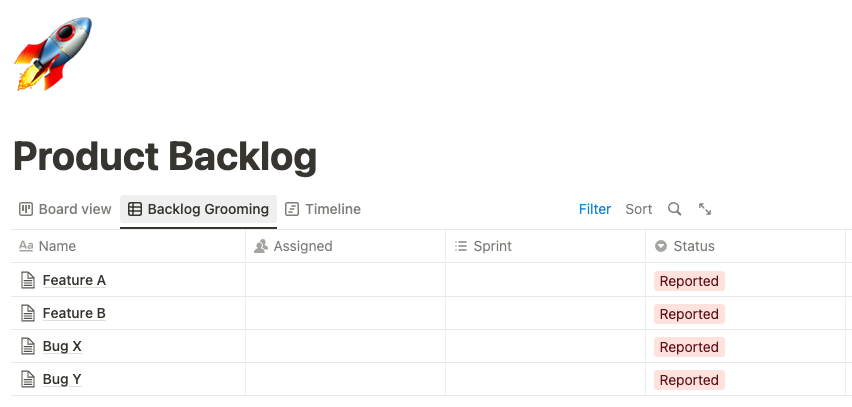 In This Article
What Is a Product Backlog?
A product backlog is a prioritized list of features, bugs, user experience updates and other requested enhancements that development teams have gathered from various product stakeholders.
Early in my career, a mentor jokingly advised me: "Never do today, what you can wait till tomorrow to do." It took me years until I understood the true meaning. It's not about procrastination.
It's about prioritization.
Backlog items should be prioritized in the order of their overall return on investment, which attempts to balance the effort to complete the task with the business value achieved by accomplishing it.
Establishing a backlog cannot be a one-time thing. The support processes around backlog management and maintenance are just as important as the product's success.
What Are Elements of a Product Backlog?
The elements of a product backlog should include:
a prioritized list of items;
stakeholder tracking capabilities;
the ability to categorize items by type; and
item status tracking capabilities.
Why Create a Product Backlog?
Backlogs are useful for many purposes. You can use your backlog to plan product roadmaps, plan sprints and other engineering efforts, document product requirements over time, capture bugs and user experience enhancements and more.
Most of all, the backlog acts as the landing spot for all information that comes in from various product stakeholders, then aligns product enhancements with that information over time.
How Is a Product Backlog Made?
Follow these three steps to create a product backlog:
Establish a backlog framework.
Choose a product backlog tool.
Implement product backlog management processes.
1. Establish a Backlog Framework
The first step to creating a product backlog is setting up the framework. Let's take a closer look at the major elements of your backlog:
Prioritized list: You'll need to be able to make a list of items and continue to update them in a single-priority order. That's right, there can only be one hottest item at the top of your list. A single-priority view is really the only way to understand an item's true importance to the business.
Stakeholder tracking: Who created the item, who has input into the requirements and who is currently assigned to work on the item?
Item types: We like to use four item types: Feature, Support Issue, Engineering Task and Bug.
Item status: You'll need to keep track of status throughout the product development cycle. We use the following status updates:
Reported: identified but not discussed yet
Needs More Info: more research is necessary before prioritizing
Not Started: discussed and prioritized accordingly
Blocked: something else needs to be done first
In Progress: actively being worked on
In Review: completed and awaiting sign off
Resolved: completely finished
2. Choose a Product Backlog Tool
There are a lot of tools you can use for your backlog, from a spreadsheet all the way to more specialized product management software. The most important elements from your tooling should be able to get developer and product management buy in and be easy to work in. If you work in an agile process, you'll want to choose a tool that works well with agile best practices.
Here are some product backlog tools that we've seen work well:
Jira
Atlassian Jira has been a well-established player in this space for many years. Jira is powerful and can be extended to do almost anything your business will throw at it, but can sometimes be a bit more to manage than is needed for some companies. This is a great choice for medium-size to large engineering organizations with more operational requirements.
Shortcut
Formerly known as Clubhouse, Shortcut provides flexible tooling and great collaborative product backlog features to help teams plan and develop.
Notion
Notion provides an easy to use collaboration framework with a flexible database structure that can nicely support backlogs. Notion lacks some of the automation and workflows the other tools use, however, and might be better suited for small to medium-size engineering organizations.
Trello and Asana
Trello and Asana both offer similar kanban and other views into a project management backlog.
3. Implement Product Backlog Management Processes
There are a couple essential backlog management processes you should implement. Make sure you have an ultimate manager, often the product manager or product owner, who will be responsible for managing the backlog. They should run the following regular team meetings:
Backlog Grooming
Backlog grooming is when the team discusses and prioritizes any new backlog items. Ingesting these items correctly is important for team alignment, capturing any additional information or requirements and prioritizing according to business value and technical readiness.
Engineering Intake or Sprint Planning
Make sure you have regular meetings for engineering to intake new requirements and align development efforts to the backlog. You'll be assigning the top unresolved items in the backlog to various members in your engineering organization for development.
Backlog Management Best Practices
These are the most important backlog management best practices to follow:
Avoid multiple backlogs.
Create different views for different stakeholders.
Establish a culture of documentation.
Running an effective backlog is more of an art than a science. There aren't enough hours in the day to perfectly ingest every piece of context for your future product in a perfectly prioritized list. You'll need good judgment.
Avoid Multiple Backlogs
The act of discussing and prioritizing all the future product features and enhancements in one spot is essential. If you have different stakeholders with their own priorities, or duplicate items, you'll never drive alignment within your product development organization.
Create Different Views for Different Stakeholders
Make sure you enable several different views out of the same backlog data to accommodate various business needs. For example, your customer service team should be able to view the status of all their requests, while upper management should be able to understand long-term roadmap implications — in addition to having all the traditional backlog grooming and sprint execution views.
Establish a Culture of Documentation
Any time a team member hears or discusses requirements or priorities around a feature, make sure they include it in the backlog. If documentation becomes part of the way you work, it'll never seem like a daunting task to write requirements or manage the backlog.
Above all else, just get started. You don't need to have 1,000 items in the backlog on day one. Begin with what's on your mind today, and keep iterating from there.
Download a free product backlog template from our Fuel platform.